Feeding Bees may be important if its required during drought or preparation for pollination. This page will give and show how to do it, including a DIY tip.
Feeding Bees during the dry season or for before the icy cold winters arrive in the north.
As well as when they need to be ready for pollination.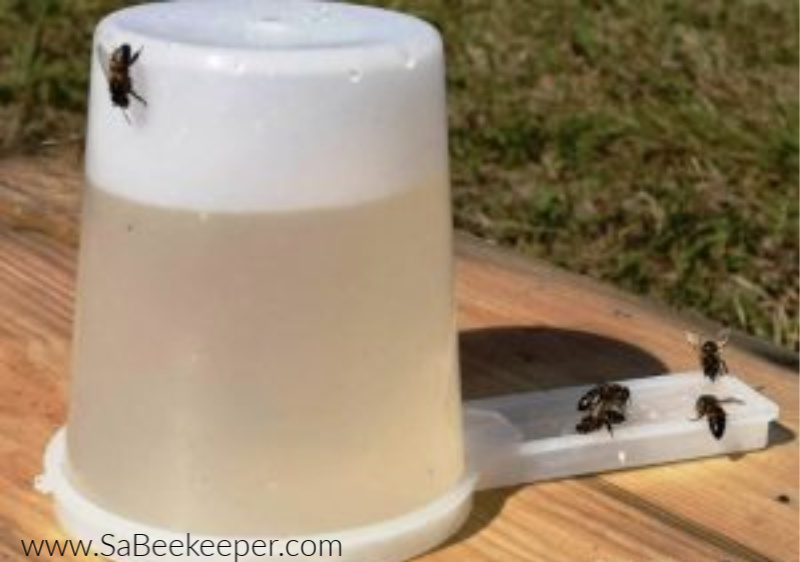 Bee Feeders
These are wonderful bee feeders.
They have a plastic mesh like covering the liquid for bees to sit on and drink the fluid that you
prepare for them. In this way they will not drown in the fluid.
Below bees feeding.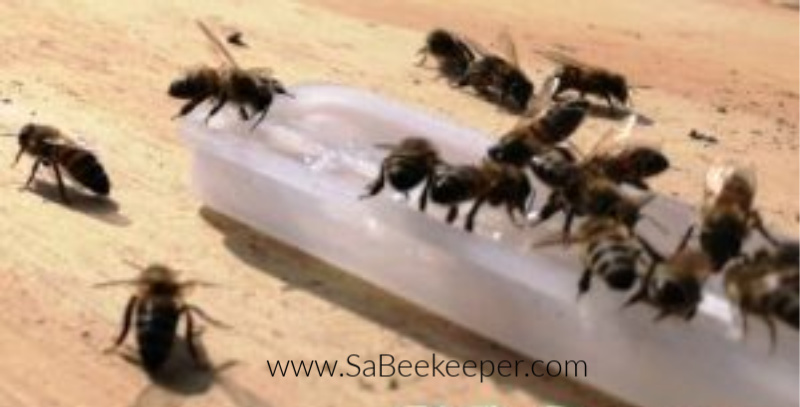 Bee Hives 
The hives brought from various sites to one field for feeding and preparing to go to pollination.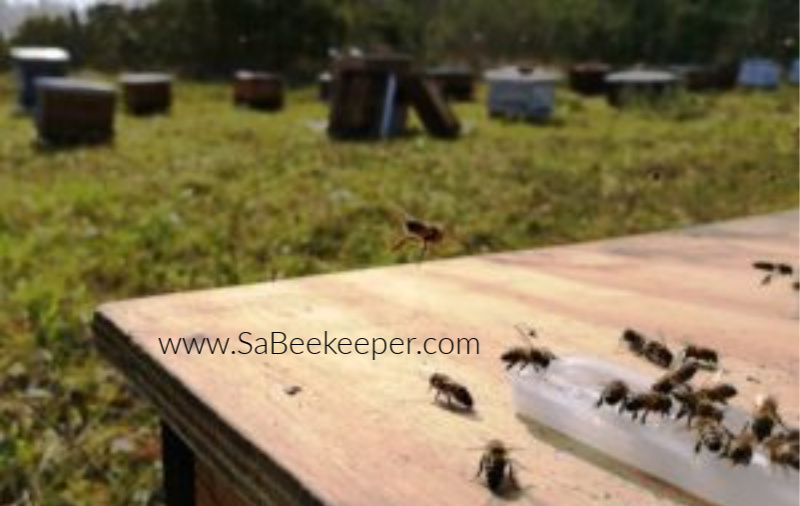 Mixes for feeding bees
One mix is sugar and water, diluted with 2 parts sugar to one part water.
Place some warm water in bucket add sugar and stir till dissolved. Then add the recommended
amount of water or let mixture cool.
Place in a feeder as above picture.
Feeder DIY
If you don't have a feeder you can use a bucket that has little ridges under the lip of the bucket with a lid.
Drill small holes inside the interior bucket, so that the bucket can be turned upside down.
With its lid intact the fluid will drip in the turned over lip and that will enable the Bees and birds
to feed on the mixture in the bucket in that way.
Below a picture of bucket turned upside down and the ridges where the water would
lie in for the bees to drink from.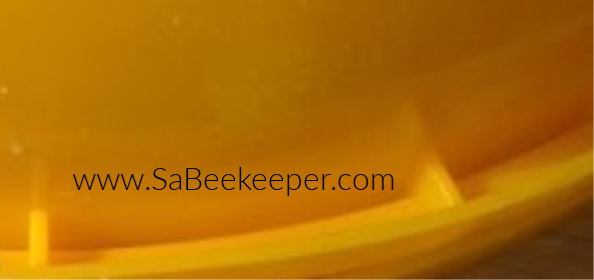 NB: Make sure the bucket you use is clean and was not used for pesticides or glue.
Tables or stands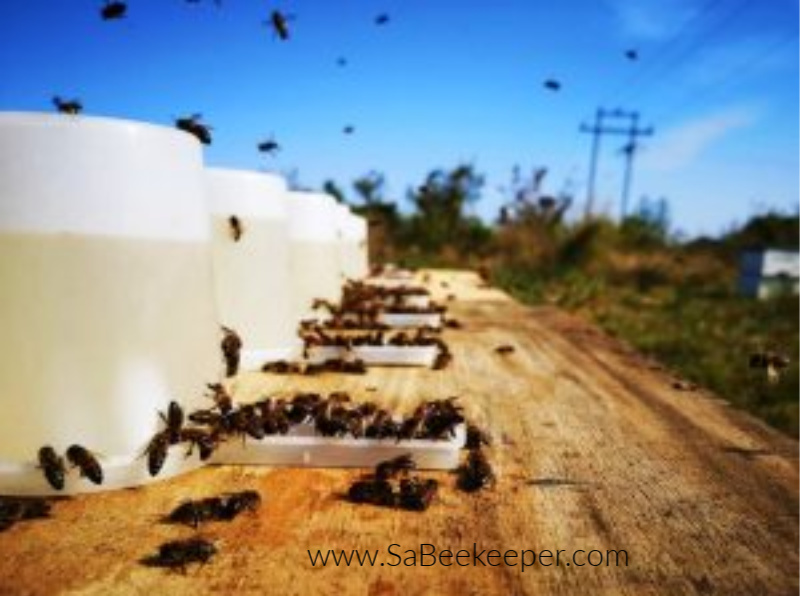 It is also a good idea to have a table or stand a little further away from the actual bee hives.
As the different swarms are not used to each other and will fight and sting each other.
In this way they all get a turn and there are plenty of feeders for them to feast on.
Bee Booster Powder
Clumps of the powder and bees on top feeding.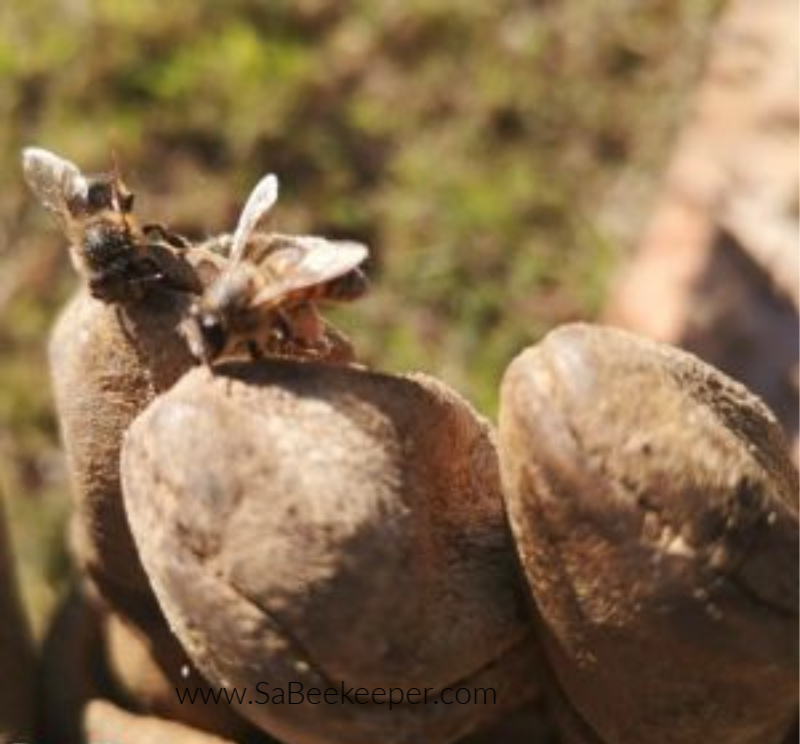 There is also some bee booster powder place in the containers for them to feed on.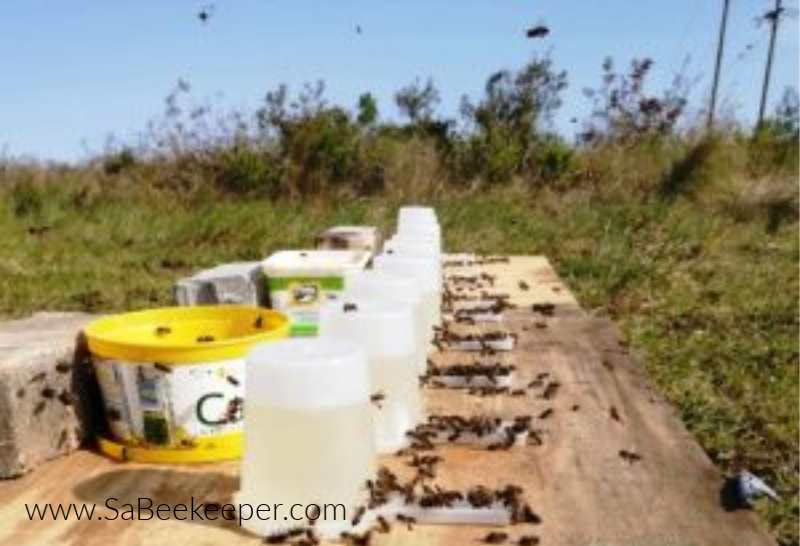 Bees Feeding
Hungry bees, note swarms in the background.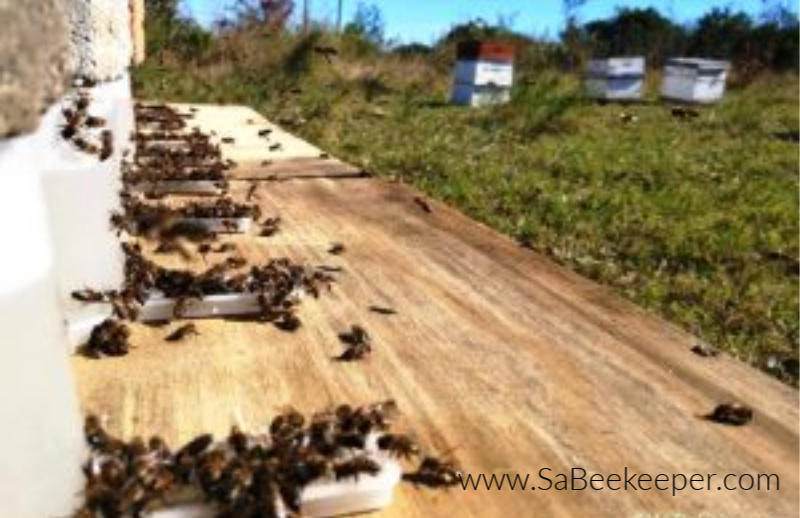 It's also a good idea to place just clean water in those feeders for when it's a dry season
and they are not near any water sauce.
DIY Water Feeder
In your garden one should always place some water for bees and insects as well as birds.
For bees you need to place a bowl with some marbles in and fill container with water,
so that Bees won't drown.
If you need to improvise, I took a pot plant holder and filled it with small enough rocks or
stones and filled it with water, as
this will prevent the bees from drowning, and provide them with much needed water.