A Bumblebees Life Cycle. Bumblebees are social creatures and have an interesting lifecycle as the queen nests while helped by her workers.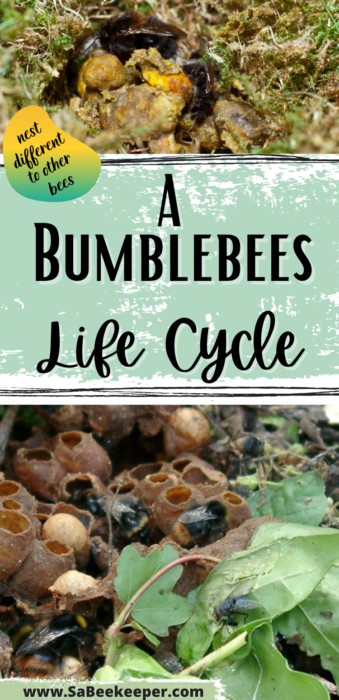 The cycle of the bumblebee
The life cycle starts when a queen bumblebee awakens, after spending the winter underground, at spring time when the temperature rises. She lives of the reserves of energy stored as fats in her body. She first emerges and starts feeding of nectar on flowers to gain her energy.
Then she searches for a suitable place to build a nest. Frequent nesting sites include holes in the ground, piles of grass, bird boxes and under garden sheds.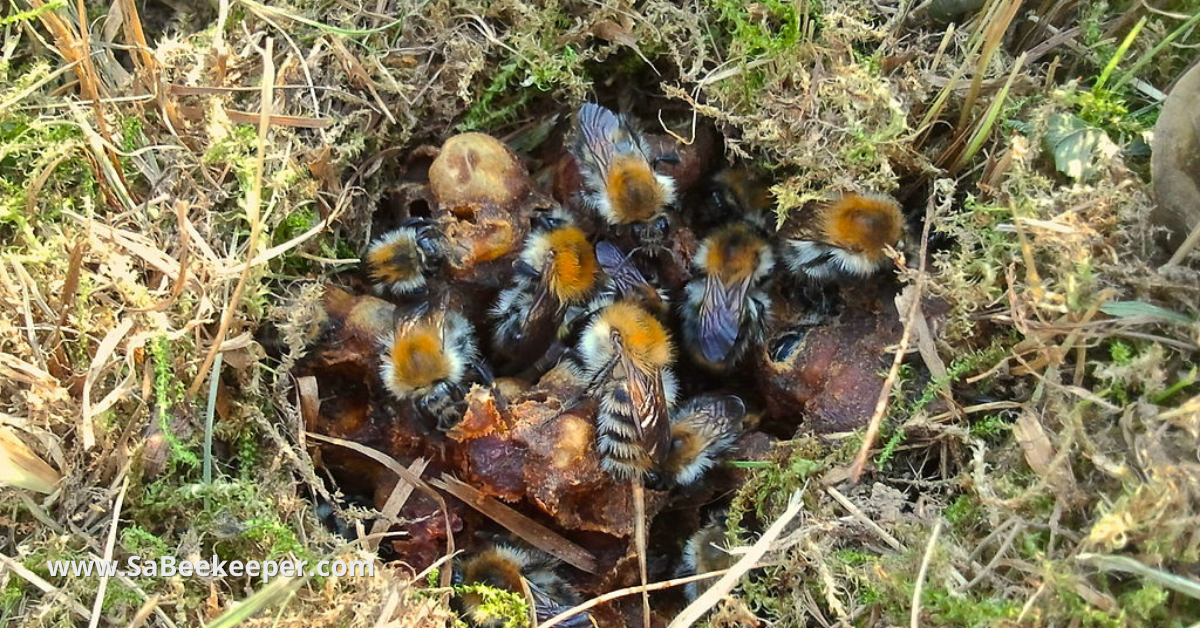 Once she has chosen a nesting site she will start to collect pollen and make a pile of pollen and wax mound. (wax she secrets from her body) then starts to lay her first brood eggs.
Bumblebees nest.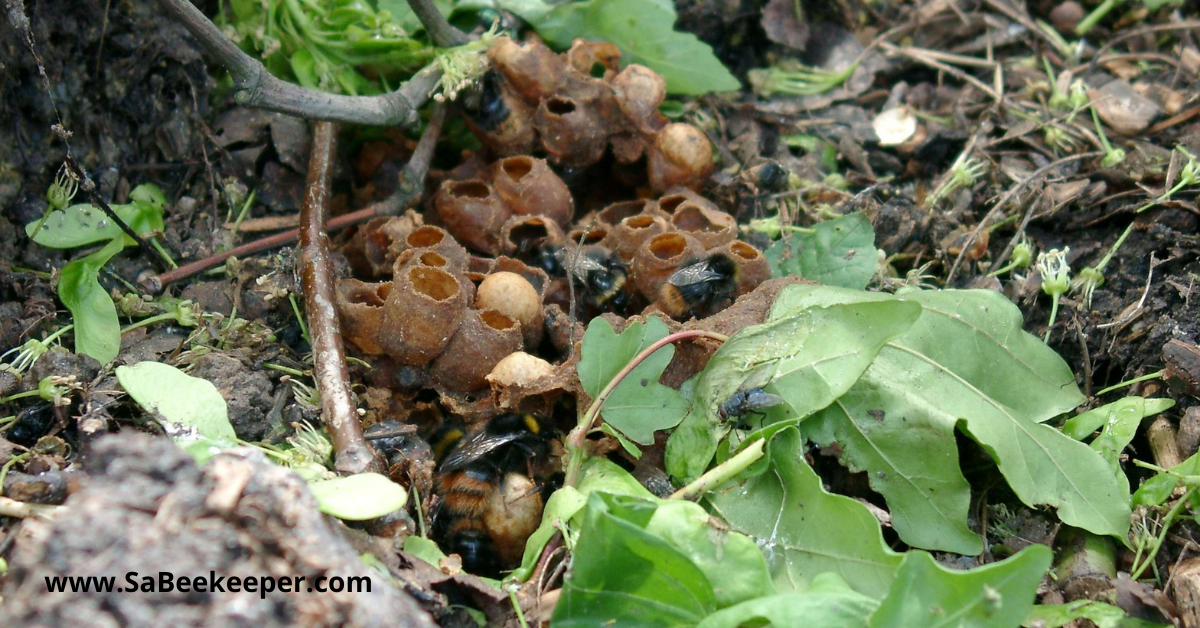 She also collects nectar which she stores in a pot-shaped structure made of wax which is positioned in front of her mound.
The queen keeps the eggs warm by sitting on her wax 'nest' and shivering her muscles to keep warm. Sipping from the nectar-pot gives her enough energy to incubate the eggs for several days until little white grub-like larvae emerge. These larvae are fed on pollen and nectar which the queen goes back-and-forth to collect from nearby flowers. Once they have eaten enough, after around two weeks, they spin a cocoon, inside which they develop into adult bees.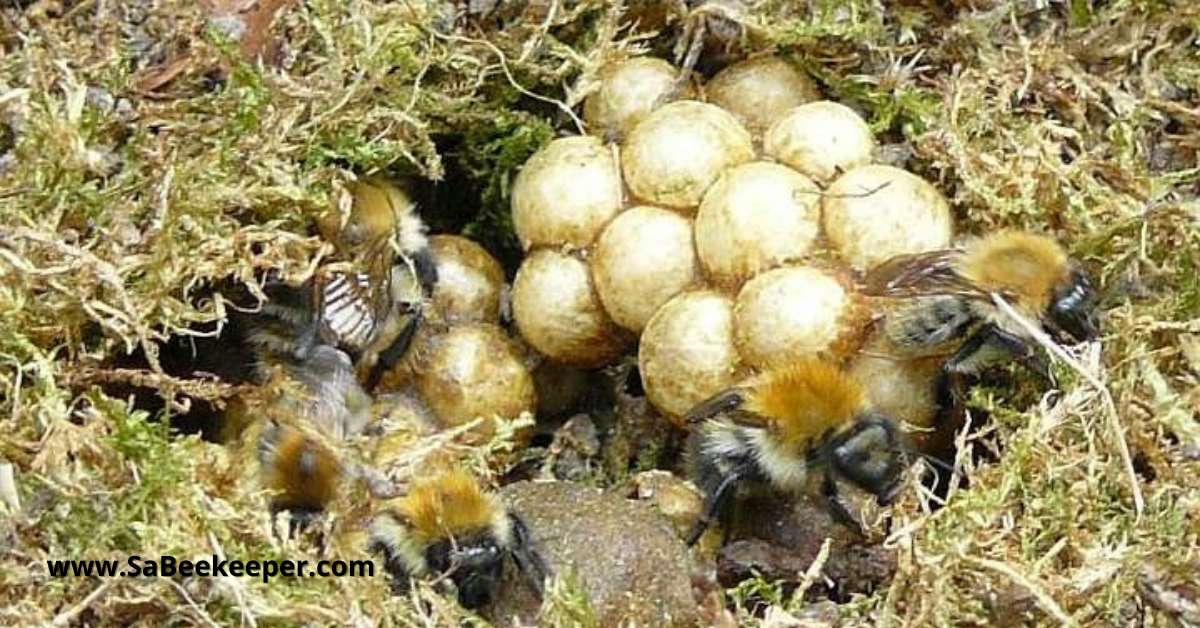 In summer the first brood or offspring are all females and will carry on work in and outside the nest. Some will guard the nest and others will go out and collect nectar and pollen from the flowers. Some of the nectar are consumed by the workers and kept to feed further batches of offspring.
Bumblebee foraging and a black bumblebee on cosmos flowers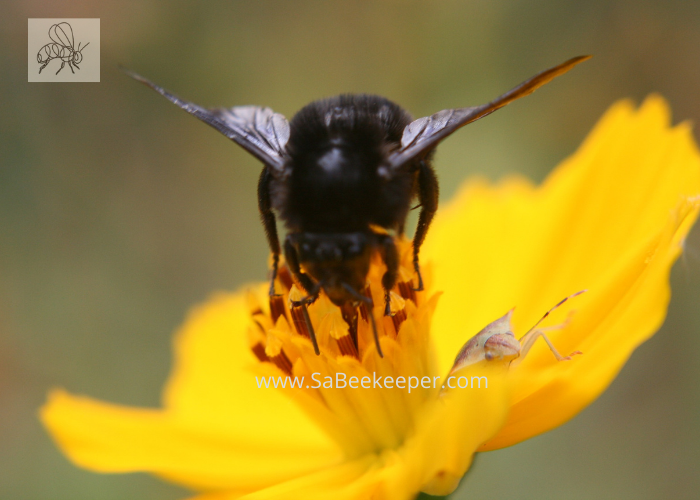 The queen still stays on the nest and lays more eggs. Keeping the worker bees busy fetching nectar and pollen.
In late summer the nest progresses in producing offspring that are not workers. New queens and male bumblebees are needed for the colony to reproduce.
Male bumblebees leave the nest and do not return. As they do not collect pollen and spend their time eating nectar and trying to mate with queen bumblebees.
The new queens leave the nest to mate with the males. Once they have mated they feed heavily on pollen and nectar to fatten up the body and gain energy to start the life cycle all over. This enables them to survive the winter as it would be a long hibernation period.
The old queen and her nest will naturally come to an end as summer turns into autumn. Only the new queens survive until the following spring, by hibernating underground.
The Cuckoo bumblebee lifecycle
Cuckoo bumblebees are a group of related species that are descended from 'true' or 'social' bumblebees. However, cuckoo bumblebees, like their namesake the cuckoo bird, use the nest of true bumblebees to raise their own offspring.
The female (there is no queen) cuckoo bumblebee enters the nest of the true bumblebee, and often hides in the nest debris for a while. Eventually, the cuckoo female may kill the social bumblebee queen, and lay her own eggs in the nest. The worker bumblebees will then unwittingly raise the offspring of the cuckoo bumblebee, without realizing that they are not related to them. The cuckoo bumblebees become adult bumblebees that leave the nest and mate with others of the same species, before the females go into hibernation.
How long does it take for a bumble bee to die.
Most bumblebees live for around 28 days before passing away.
If your bee isn't wet or cold or not obviously injured, it may have some issue you can't see. It may have a disease, a parasite, or some injury you can't detect.
Likewise, a bee may simply be dying of old age. Signs of age included ragged wings and a loss of hair, making her look especially shiny and black.
A dead black bumblebee. End of her life, found on the ground by her nest.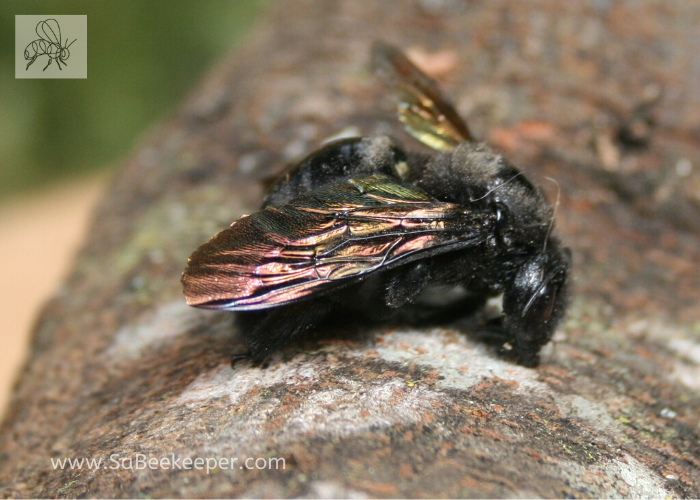 A black bumblebee dies, (end of her life)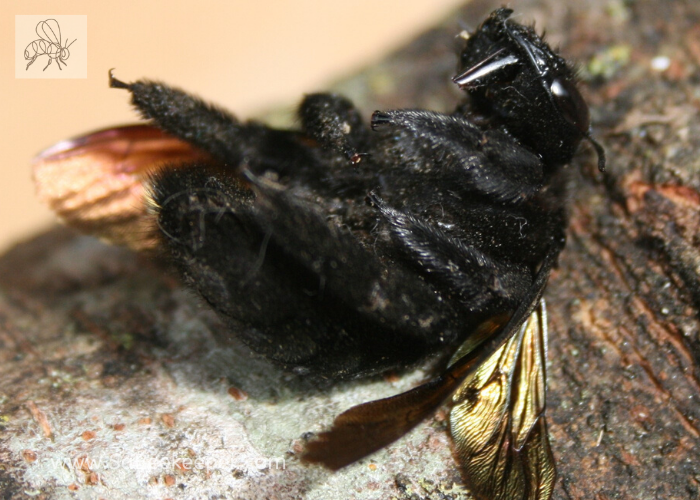 Some bumblebees will die if.
Flooding will cause a lot of problems. Many bumblebee species live as small colonies in burrows in the ground, or within walls and banks. If heavy rainfall floods the nest, the bees become waterlogged and may drown or be killed by the cold.
A way to make the bumblebees safe if you can find their nests.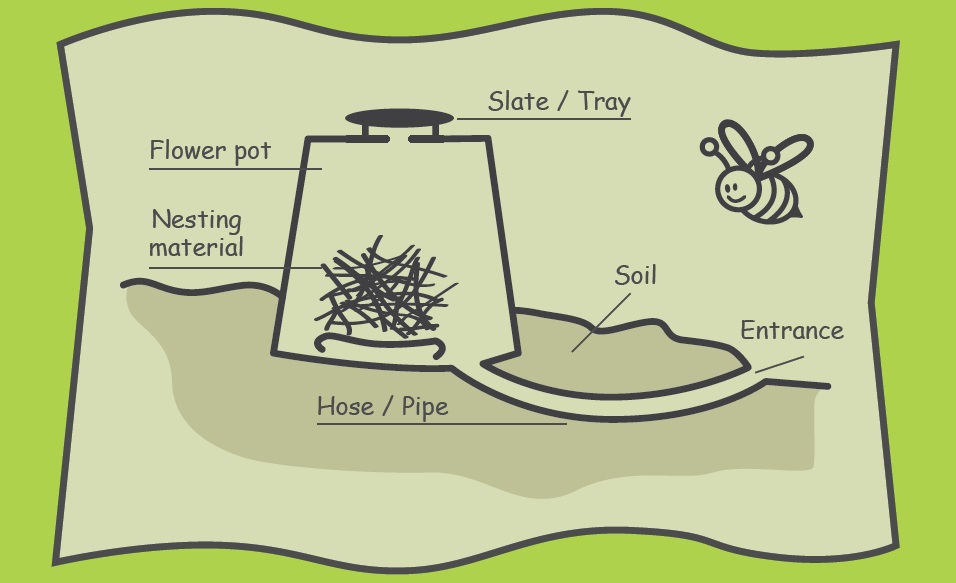 Do Bumblebees Sleep.
Yes, of course. Male bees will also sleep outside, after they leave the nest (never to return). Usually, you'll find resting bumblebees under flowers or even inside them.
Below a bumblebee resting in a rose.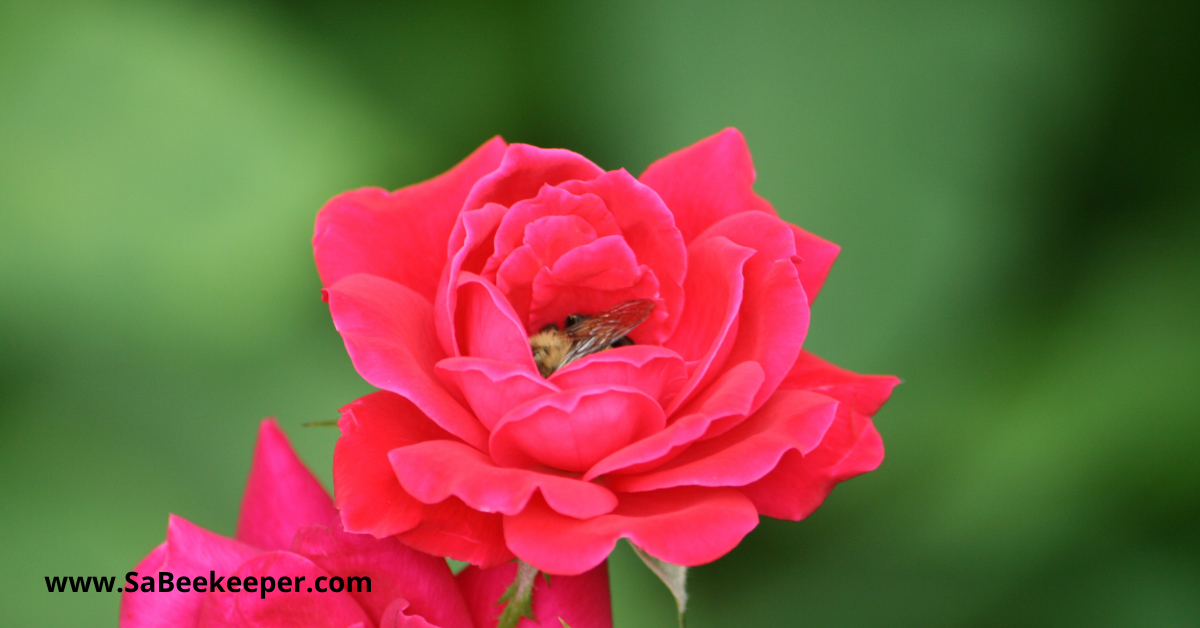 How do you tell the difference between a male and female bumble bee.
You can also tell whether a bumblebee is male or female by looking at its legs. If you see a shiny flattish looking segment on the back legs (called a pollen basket) or a big clump of pollen on a this area then it is a female bee because male bees do not collect pollen.
A female black bumblebee with pollen on her legs.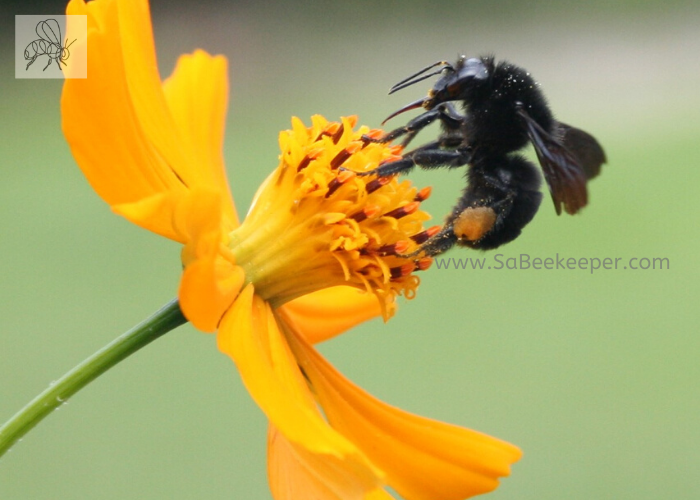 People should be aware of the different species of bees and their nesting cycles so we can protect them. As they are all great pollinators. The world will depend on their pollination.
Other bumblebees found in Ecuador
View a busy pollinating black bumblebee
Bumblebees forage on Monk orchid flowers
Yellow striped tailed bumblebee
Ecuadors social bumblebee at work
Please be aware and save the bees.
Purchase some bee hotels to help all the native bees nest better, online.
This post may contain affiliate links, where we earn from qualifying purchases.